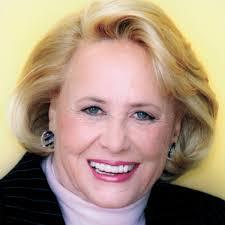 "Charming and Dishy!"
From the legendary Liz Smith in her column for the New York Social Diary. Liz Smith was known as "The Grand Dame of Dish" herself and I was honored that she read my book and reviewed it in her column. Here's what she had to say:
Liz Smith's Review of A Nobody in a Somebody World (2013).

Lorraine Holnback Brodek was once the VP of Direct Marketing at Warner Bros. from 1985-91. Obviously, she met a lot of celebs during her tenure. But it was nothing new, because Lorraine had grown up in Hollywood, the child of well-to-do parents. They weren't "in the biz," but if you have money and live in the Hills of Beverly, you will invariably run into a star or twenty.
Lorraine tossed Jacks with Nora Ephron…played tennis with Ricky Nelson…went to Sunday school with the children of Eleanor Powell and Glenn Ford and Jimmy Stewart . . . she partied with Ava Astaire. And most significantly (for her), she was best friends with the late author and columnist, Erma Bombeck. Lorraine is also close with rock chick Pat Benatar. (Ms. Brodek is nothing if not eclectic in her choice of pals!)
Lorraine's reign at WB ended on an ugly note. She was sexually harassed. But she fought back, enlisting the then not-so-well-known Gloria Allred.
But Lorraine's memoir doesn't go down that road much. She keeps it light and charming. Apparently, according to Pat Benatar, "this is much like the lady herself."