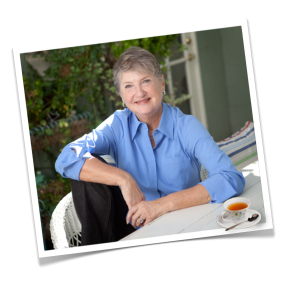 Lorraine was born in Hollywood and raised in Beverly Hills, California and currently resides in Studio City, California. She graduated Cum Laude from USC with a degree in radio and television after serving as the first female station manager of KUSC-TV in 1961. It was there that she met her husband, Tom, and they celebrate their 50th wedding anniversary this year!
Their first daughter, Kristin, was born in Hamburg, Germany in 1966 where Tom headed up the European division of a commercial production company at Studio Hamburg. Their second daughter, Kerri, was born in Pasadena, California after their return to the states and Tom continued as a commercial executive. When Tom was offered the job to manage Southwestern Studios in Carefree, Arizona, Lorraine and Tom moved to Paradise Valley in 1971.
Lorraine is credited with starting the volunteer program for the Friends of Public Television in Phoenix, Arizona in 1971. As Chairman, she guided the group as they raised millions of dollars to build new TV facilities at Arizona State University. At the same time, Lorraine and her stepmother, Betty, founded the needlecraft company, Fingerworks, based on her original designs that were featured in many catalogs, major retailers and magazines. This was also the same year that she underwent a double mastectomy followed by experimental surgery that set a precedent for breast cancer victims. She made numerous TV and public appearances to speak and counsel on this issue…always with a message of hope.
Following the family's return to California in 1979, and five more years of running Fingerworks, she then worked as Production Coordinator on the movie Transylvania 6-5000 produced by Tom and filmed in Zagreb, Yugoslavia.  In 1985, she created the award-winning, Warner Bros. Catalog, selling merchandise promoting Warner Bros. films, television shows, videos and Looney Tunes.
Upon leaving her post as VP of Direct Marketing for Time Warner (Warner Bros.) in 1991, she founded her landscaping company with pal, Dee Paulino. Many of Lorraine's gardening designs have been recognized in magazines, calendars and garden tours. She also holds two patents for gardening marking devices. Her outdoor and indoor talents are obviously shown in the homes she and Tom have either remodeled or built…the latest being their beautiful Hawaiian vacation retreat in Hana, Maui. It is here that their now married daughters and grandson, Logan, have spent many happy days enjoying their love of the outdoor lifestyle.
Two (!) of Lorraine's books are being published in 2012. The first is The Tale of Peeky Peeper, her whimsical Christmas children's book and game that she wrote and illustrated for Logan. The second is A Nobody in a Somebody World: My Hollywood Life in Beverly Hills...a humorous collection of memoir essays based on many of her outrageous experiences in the film industry and in her world of entrepreneurship.
Lorraine was honored with the Mayor's Commendation from the City of Los Angeles for her outstanding contributions and achievements, along with wishes for her continued success in her endeavors. Her non-stop efforts since then have proven both rewarding and productive as she continues to reinvent herself. Her goal now is to see "Best Seller!" next to her book titles.